Manon Trapp is a young French talent who has had impressive results in cross-country, 5000m, 10k races over the last few years. She is now moving up in distance racing and preparing to run her first marathon on Sunday, December 3rd in Valencia, Spain with the hopes of qualifying for the 2024 Paris Olympics.
From Judo to Running
Manon, a seasoned judoka with an impressive black belt and a ninth-place finish at the French Championships, found herself drawn to running in 2017. She began with casual jogs in the forest, but her love for running soon grew. She transitioned from cross-country to road and track events, focusing on distances like the 3,000 meters and the 5,000 meters. "For me, track was mainly a way of gaining speed, to then be better on cross-country. And then with the road, I liked to see my progress over 10km from year to year: I had a tradition of doing one 10km a year. This enabled me to compare my times. Because in cross-country, it's varied and more complicated to compare."
At first, she tried judo and running, but she quickly realized they couldn't be combined. Her passion for cross-country took over. Manon shared, "I love this outdoor sport, which is synonymous with freedom."
Manon recently finished 3rd French female at the Half Marathon World Road Running Championships confirming her move to road running and the marathon.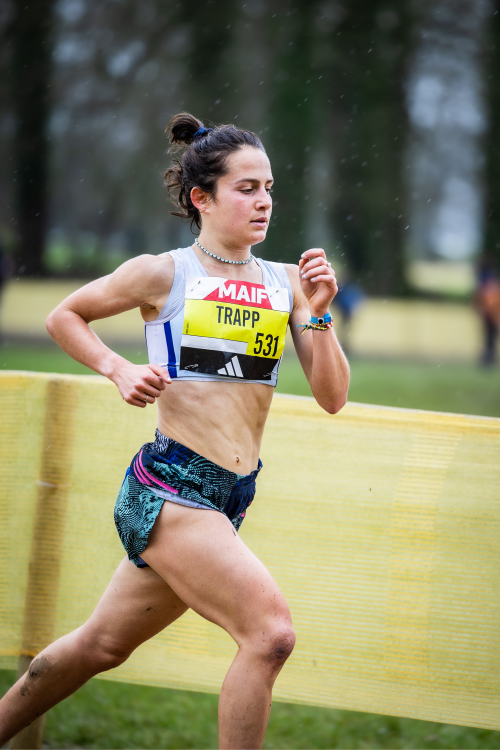 Credit: Paola Tertrais (@paollla.pix).
How did her training change?
In 2021, Manon made a big change in her training by switching to a new coach. Her previous coach was all about access to the track, with some easy sessions, but really few fartlek and threshold sessions. "I didn't know the threshold until 2 years ago. It was a lot of track sessions and often the same sessions."
Now Manon is out in the countryside more often, and she absolutely loves it. Her training has become much more varied, with workouts like fartleks, strength training, and longer threshold runs on Sundays becoming a regular part of her routine.
"Today, in my new running club, we focus on cross-country and road workouts, and I only hit the track once a week for a specific type of training. I run a lot by feel." Now, as she enters her third year with her current coach, they're placing more emphasis on improving the quality of Manon's training, and slowly increasing the training load, especially as she prepares for the upcoming Valencia marathon.
One other change in Manon's training routine is her involvement in a training group at Le Bourget-Du-Lac. "We always train together. That's one of the factors that's helped me make progress! It's really important to me to be surrounded by teammates during high intensity sessions. When it comes to easy runs, I prefer to go on my own, so that I can choose my pace and make sure that I recover properly."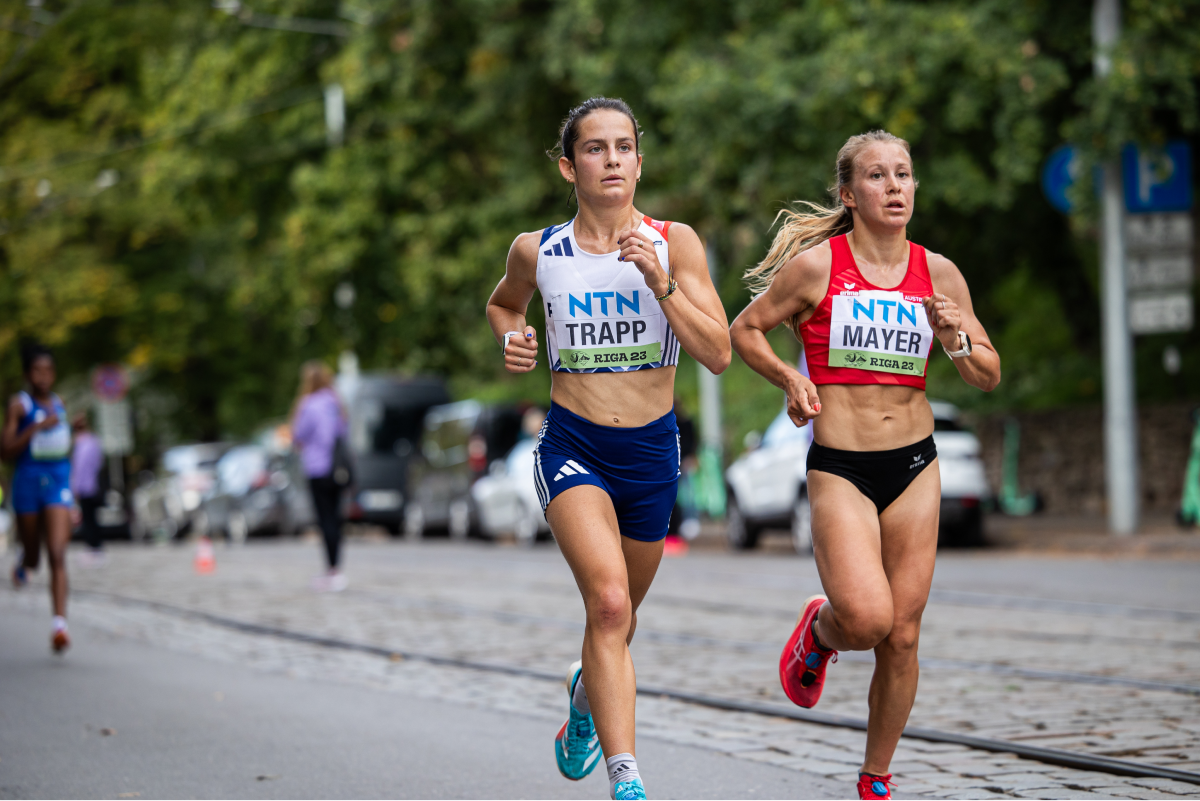 Credit: Paola Tertrais (@paollla.pix).
The Olympic Dream
Manon progressed quickly in running and she started thinking about the goal of every elite athlete—qualifying and participating in the Olympics. However, she faced a tough decision: which distance to focus on? While the track was an option, Manon's heart longed for cross-country. Unfortunately, cross-country isn't an Olympic event, leaving her to pick between track and the marathon. Manon said to herself: "why not try the marathon? I love running longer and I feel more comfortable running longer distances, so I guess I would love marathons. We'll see. And if I don't manage to qualify for the marathon, I'll try to qualify on the track."
What is she most nervous about the marathon?
Preparing for a marathon brought unique challenges for Manon. She shared, "This marathon challenge is more stressful because you can't replicate it during training. I did my first 30km session and I had many questions: How will my body react to this distance? This is a new training method and I hope my body can manage it. But so far everything is going well- my body is able to handle it thanks to past experience. With that being said, I am stressed about how my body will react past the breaking point at 35km. All the experienced athletes told me about the '35th wall', it's a bit scary (laughs)."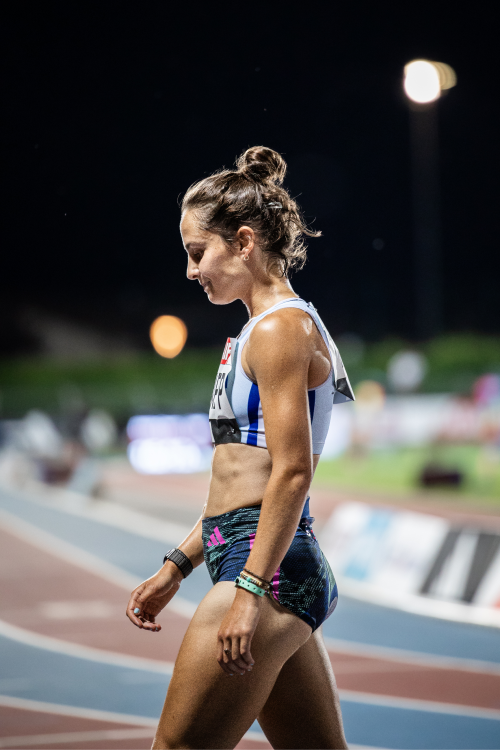 Credit: Paola Tertrais (@paollla.pix).
Goals for race day
As she gears up for the 2023 Valencia Marathon, Manon's main goal is to achieve the minimum qualification standards for the 2024 Paris Olympics. Regardless of what happens that day, she views this marathon as a valuable learning experience that will shape her future in long-distance running.
When we asked Manon how she's feeling about race preparation she shared, "Yes, I'm confident. I've got a good level today: I think anything's possible! I still have the biggest sessions to come, and those sessions will give me confidence: they'll tell me whether it's realistic to aim for the minimum. My objective will evolve over the coming weeks."
The COROS team wishes Manon an excellent preparation leading up to the 2023 Valencia Marathon. We look forward to following your performance and discovering the next steps in your running career!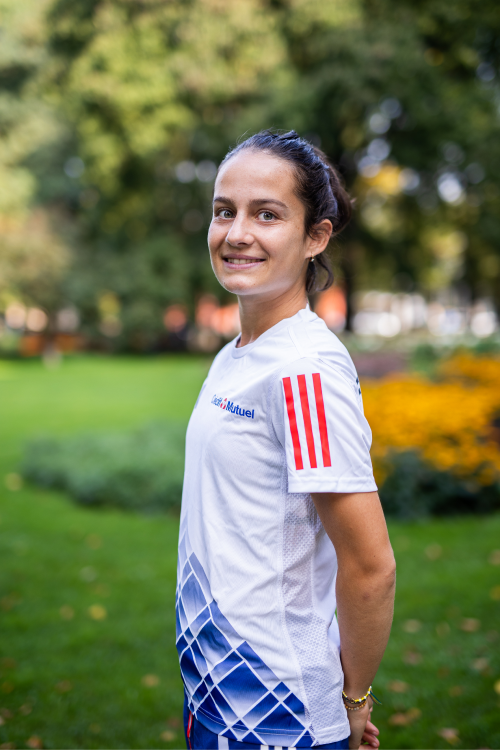 Credit: Paola Tertrais (@paollla.pix).