For Matt, running represents a lifelong passion, serving as a therapeutic outlet where he can clear his mind, make new connections, and an activity that he can do wherever he goes.
After last year's unseasonably warm New York City Marathon, like many other runners, Matt wanted redemption. As we head into race weekend, here is a glimpse into his training and how he keeps focused with a positive mindset and the support of his coach.
New Approach Towards Training
Matt has been excited about this year's New York City Marathon from the moment he crossed the finish line last November. He really struggled through the race and wanted another shot at chasing a big goal- a sub-3-hour marathon.
You put this pressure putting your goal out into the world; sometimes you fall short, and just because it doesn't happen it doesn't mean that I didn't put in the work. I need to remind myself that I am doing this because I enjoy it and to have fun.
Recognizing the need for additional accountability and guidance in achieving his ambitious goal, Matt enlisted the expertise of Coach Julia Lucas. Julia became his dedicated support system, providing motivation, helping him navigate challenges, and becoming a trusted sounding board throughout his training.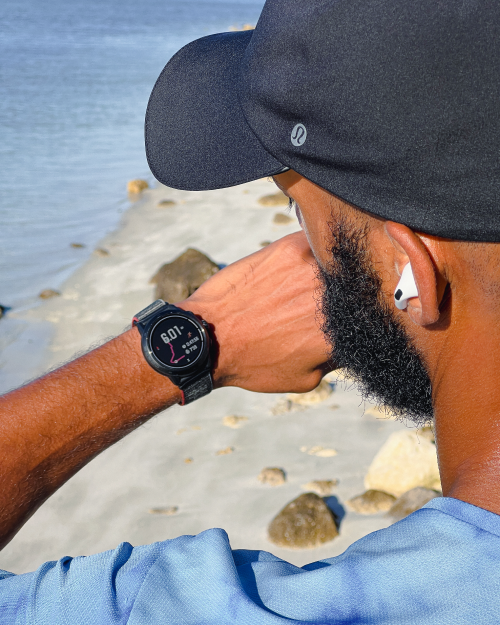 Matt training with his COROS APEX 2 Pro.
This training cycle hasn't gone without a few challenges; Matt injured his tailbone at the beginning of the summer while playing basketball. He said, "to go forward you have to take a few steps backward". With the help of his coach, they modified his training for the first two months with the main goal of getting healthy so that he could safely and confidently resume training for his redemption race.
Using COROS in Training for the 2023 New York City Marathon
Matt and his coach used the data from his COROS APEX 2 PRO to help track his progress and finetune training. After every run, they would talk about how it went and break down his EvoLab metrics. "The data tells the full story, I used to just look at pace but that only tells one thing."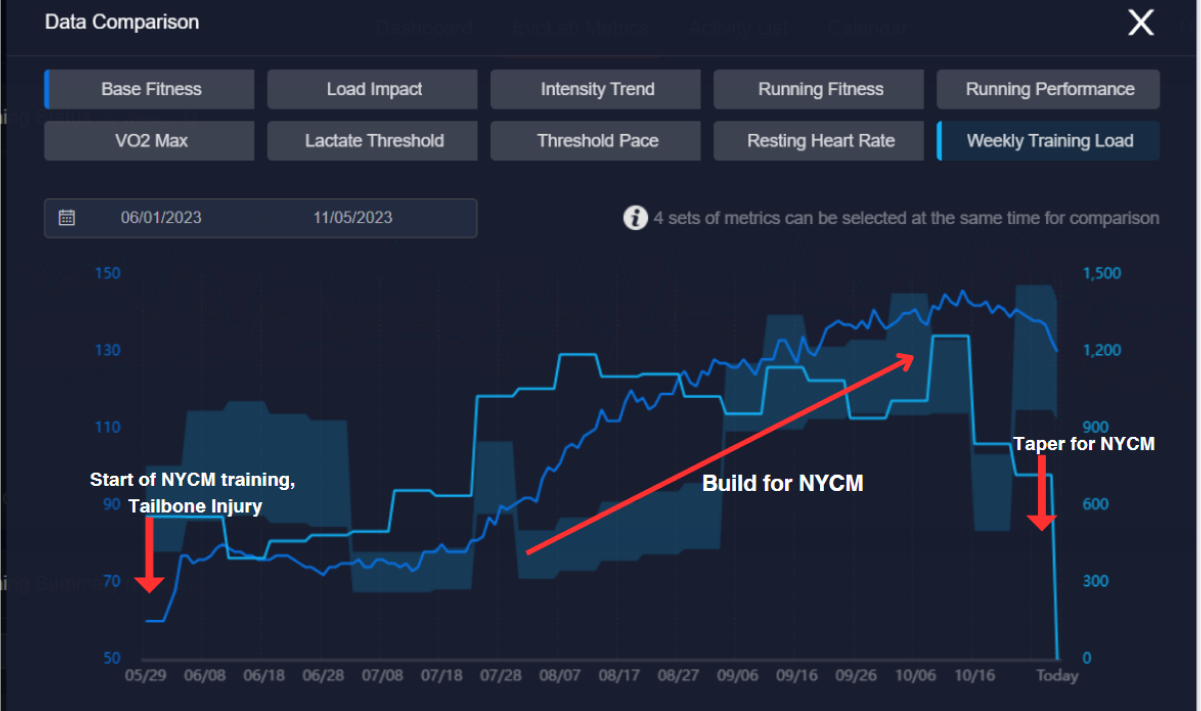 Matt's training build for the New York City Marathon in EvoLab.
Over the last four months of training for the New York City Marathon Matt maintained his Training Load while increasing his Base Fitness. He used his COROS metrics to make sure that he was properly recovering not only from the higher-intensity workouts that Julia scheduled for him and the stress that comes from combining training for a marathon and his busy life. He structures his schedule prioritizing recovery and running- keeping up with regular training, staying hydrated, getting the rest he needs, and eating right.
Matt completed a lot of his training in cities where conditions were extremely hot and humid. To maintain safe and effective training, he focused on heart rate and effort during his runs. Using the COROS Heart Rate Monitor alongside your watch can track heart rate more accurately especially during those hotter days!
Matt's Top 3 Tips for First Time Marathoners
You can go into a race feeling super-prepared, but the uncertainties of race day can throw unexpected curveballs your way. With numerous marathons under his belt, Matt reflects on the advice he wishes he'd received before his first race:
Start out slow. You are going to feel like a superhuman at the start of the race. If you go out at a pace that you did not train for or isn't the goal, you're going to feel it come back to get you later in the race. Whatever you're feeling during those first few miles, try to run even slower.
Don't do anything new on race day. Stick to what you have been doing throughout your training. Do not worry about what other people are doing, focus on your goals.
Have fun and remember your why. You spent the last few months putting in the work, when things start to hurt remind yourself why you enjoy doing this. Don't focus on the numbers but think of the loved ones you lost that you're running in memory of or the cause that you raised funds for to make your miles mean more. Everyone has their own why.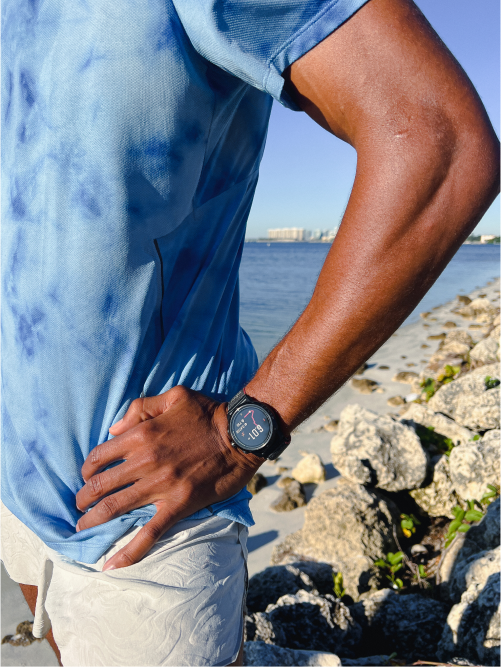 Matt training with his COROS APEX 2 Pro.
Heading into Race Weekend
For Matt, the best thing about race day is the thrill of the unknown. "It's the jitters at the starting line, you can't emulate or recreate this feeling. Getting to re-experience the excitement and nerves race after race is my favorite part."
As the big day approaches, Matt can't help but express his excitement, saying, "Training has been so much fun, I have a lot of confidence heading into the race knowing that I did everything I could to prepare." He's even got his 'New York uniform' all set and ready, describing it as "dressed in all black locked in like Batman on a mission, running to get that time."
The team at COROS wishes Matt a great race this Sunday at the New York City Marathon and looks forward to hearing how the day goes!