In an outstanding display of skill and determination, COROS athlete Giovanna Martins, a renowned female trail runner from Brazil, won the Ultra-Trail Serra da Bocaina 110 on September 22, 2023. This grueling 100-kilometer race featured a daunting ascent of nearly 16,000 feet, taking participants through diverse terrains such as beaches, dirt roads, and challenging trails.
Giovanna chose this race due to her aspiration of competing in the prestigious UTMB 100 Mile Finals in Chamonix, France, in 2024. Winning the UTMB Brazil served as an automatic qualification for this event.
There is a lot that goes into a performance before the result. In this blog post, we'll dive into the details of her training regimen and the remarkable story of her race day performance!
Watch Used: COROS APEX Pro
Analysis Tool: COROS Training Hub
Data Analyzed By: COROS Coaches
Training Before UTMB Brazil
A lot of planning and hard work goes into the preparation before a big event. Giovanna had four races between June and September. Training for multiple events in one year is challenging but can be done when planned out well. When looking at Giovanna's training leading into the race, she worked to build her fitness before going into her bigger races of the season which were Martigny-Croix (MCC UTMB) and UTMB Brazil.
Base Fitness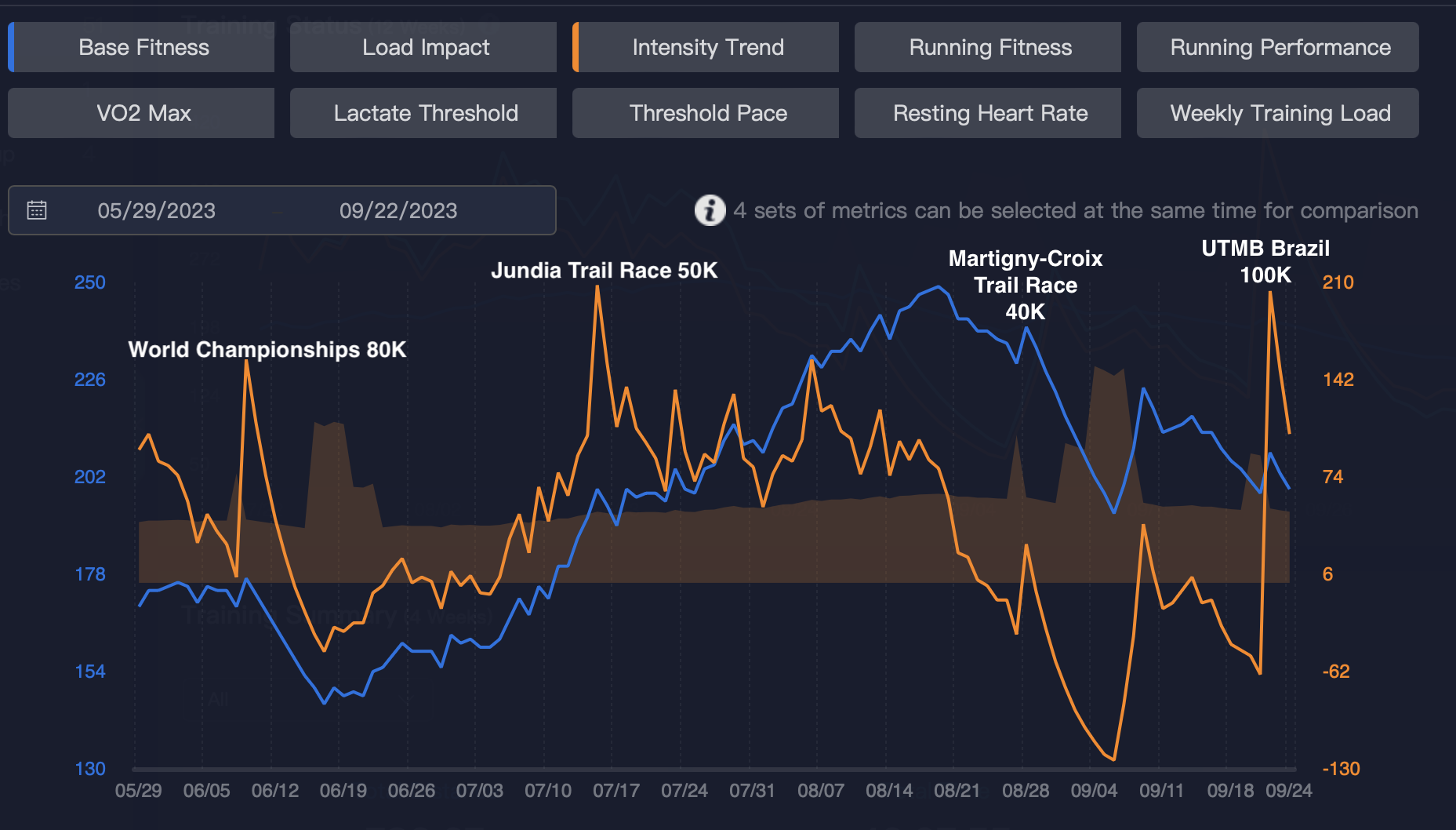 Giovanna's Base Fitness from June to October 2023.
COROS Education: Base Fitness is the 42-day rolling average of your training load score from each workout.
Some key takeaways from Giovanna's training this year include:
Giovanna took a week off of structured training after the World Championships in June. During this time, she rested and rode her bike to allow her body to recover.
Giovanna focused on building her fitness after recovering from the World Championships until August 21st, peaking at a Base Fitness score of 249. Although she raced in July, she used this effort to get ready for the races later in the summer, so there was no drop in fitness before that race.
Giovanna dropped her score by 20 points to help her reduce fatigue for MCC on August 28th. After MCC, she continued to let her body recover by taking 8 full recovery days and then focusing on easy running and biking. This was an important step to allow her body to fully recover even though Brazil 100K was one month away.
Giovanna got her Base Fitness score back up to 224 in September but rested more before her final event of the year, bringing it down to 198. The final drop in her score showed she was ready to perform on race day.
Specific Training

A preview of one of Giovanna's biggest training weeks.
Giovanna offered COROS an exclusive peek into her training routine, revealing her disciplined approach to preparation. She shared that she dedicates six days a week to training, covering an impressive average of 160 kilometers weekly. Giovanna follows a rigorous schedule, often engaging in two training sessions a day, except for her long-run days.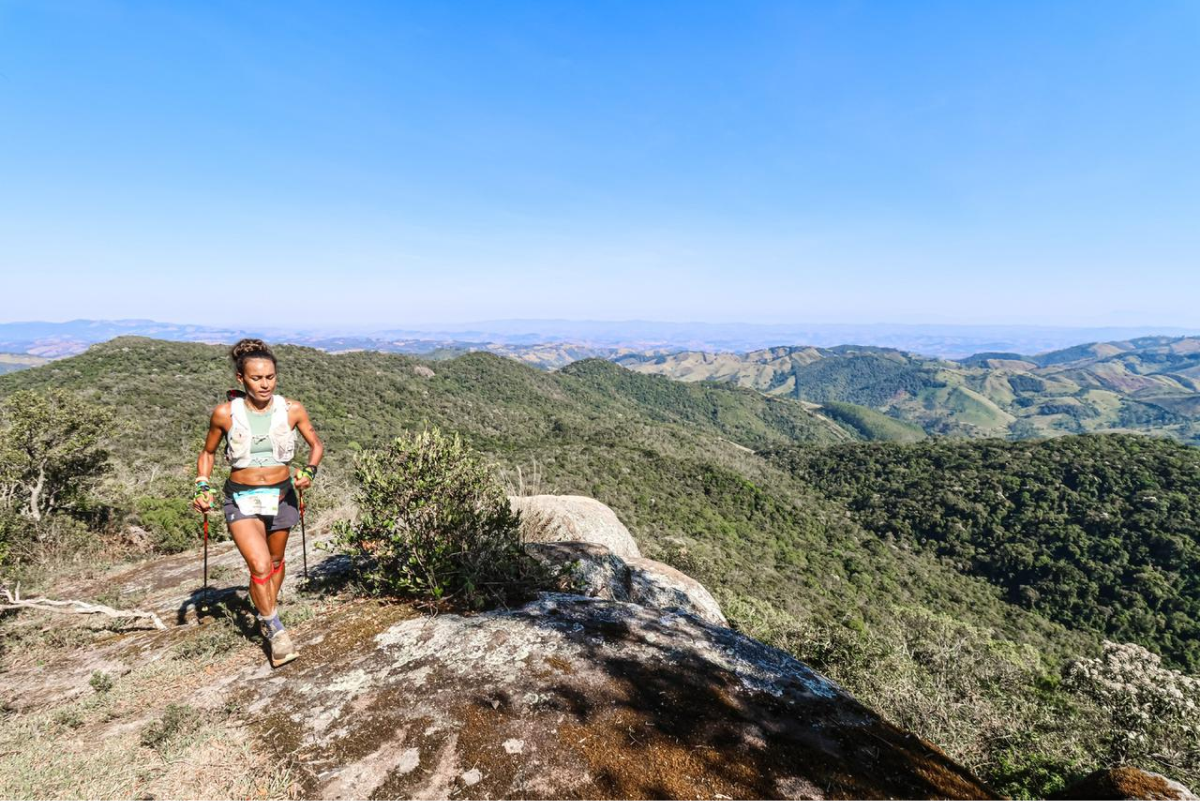 Giovanna Martins racing Brazil UTMB 100K.
Living in a city without mountains, Giovanna has creatively adapted her training methods. During the week, she explores her urban landscape, seeking hills for repeats to mimic elevation changes. Additionally, she incorporates a challenging uphill treadmill run once a week. Beyond running, Giovanna diversifies her workouts. She includes cycling sessions and utilizes the stair stepper at the gym for cross-training, showcasing her holistic approach to fitness and performance enhancement.
Time in Zones Chart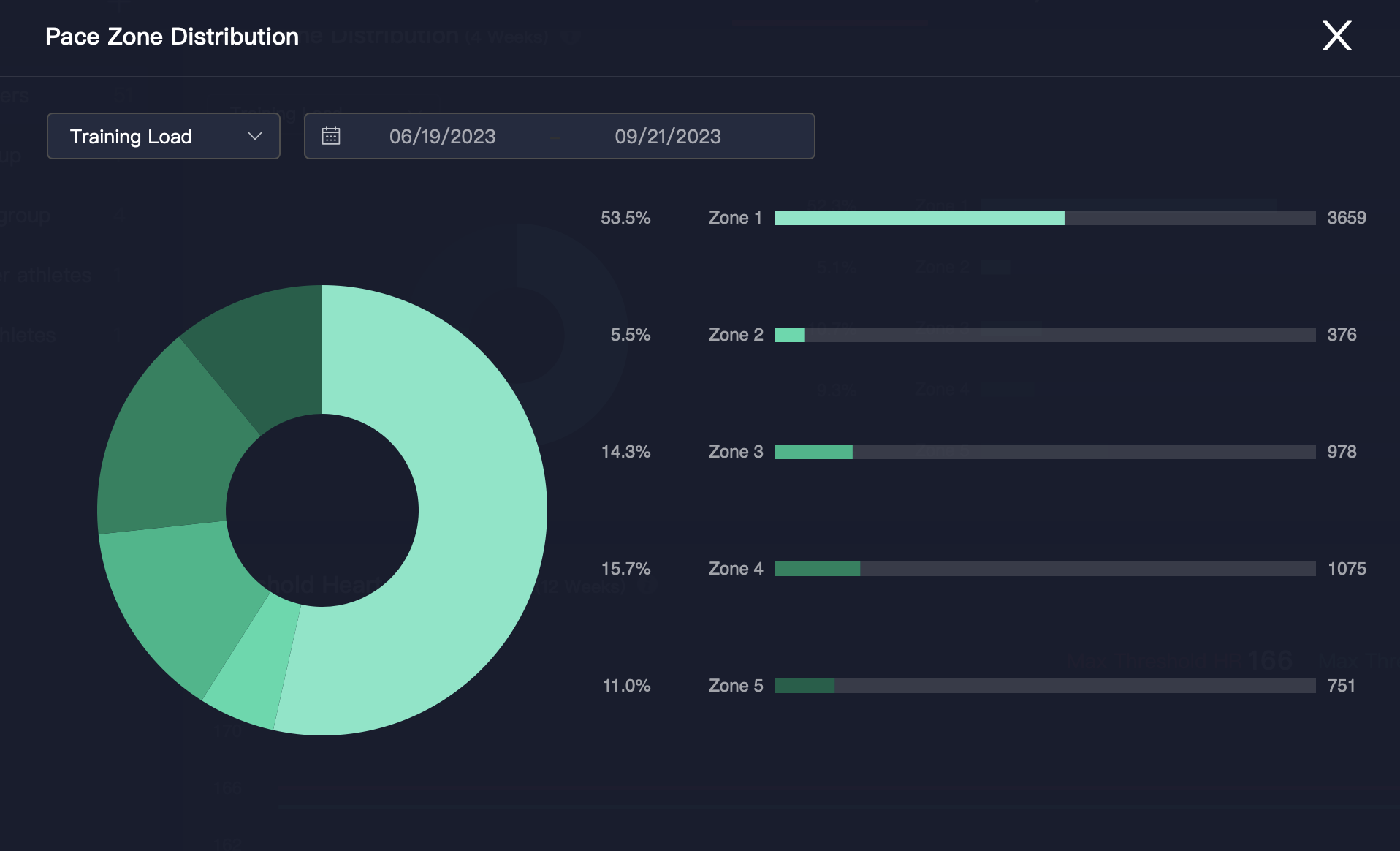 Giovanna's Pace Zone Distribution during her specific training phase from June to September 2023.
COROS Education: The Pace Zone Distribution graph breaks down your running volume into the 5 pace zones.
Examining Giovanna's training from July 19th to September 21st, right up to the day before UTMB Brazil, this graph offers a clear visualization of her training structure. It's evident that Giovanna dedicates a significant portion of her training load to Zone 1, corresponding to her Aerobic Endurance Zone. Given the exceptionally high volume of her training sessions, maintaining an easy effort in this zone is crucial for her.
Race Day
UTMB Brazil was an amazing race for Giovanna. Her performance demonstrates that she raced at her peak, substantiated by her data.
Time in Zones

Giovanna's heartrate data from UTMB Brazil.
COROS Education: Activity data is available on the Training Hub under the Activity List tab.
Examining the data above, it's evident that Giovanna dedicated over 50% of her training load to Zone 1. This focus was precisely tailored to her 100K race results, where she maintained an average heart rate of 149 bpm. This heart rate aligns perfectly with her Aerobic Endurance Zone based on her Threshold Heartrate Zones, which falls between 133 and 149 bpm. Giovanna meticulously trained in a manner that mirrored her intended race strategy. Analyzing the race profile, it becomes apparent that her heart rate decreased significantly during extended downhill segments and sections with less elevation gain. This highlights the importance of understanding the specific demands of a race and structuring your training accordingly, setting the stage for your optimal performance on race day.
Effort Pace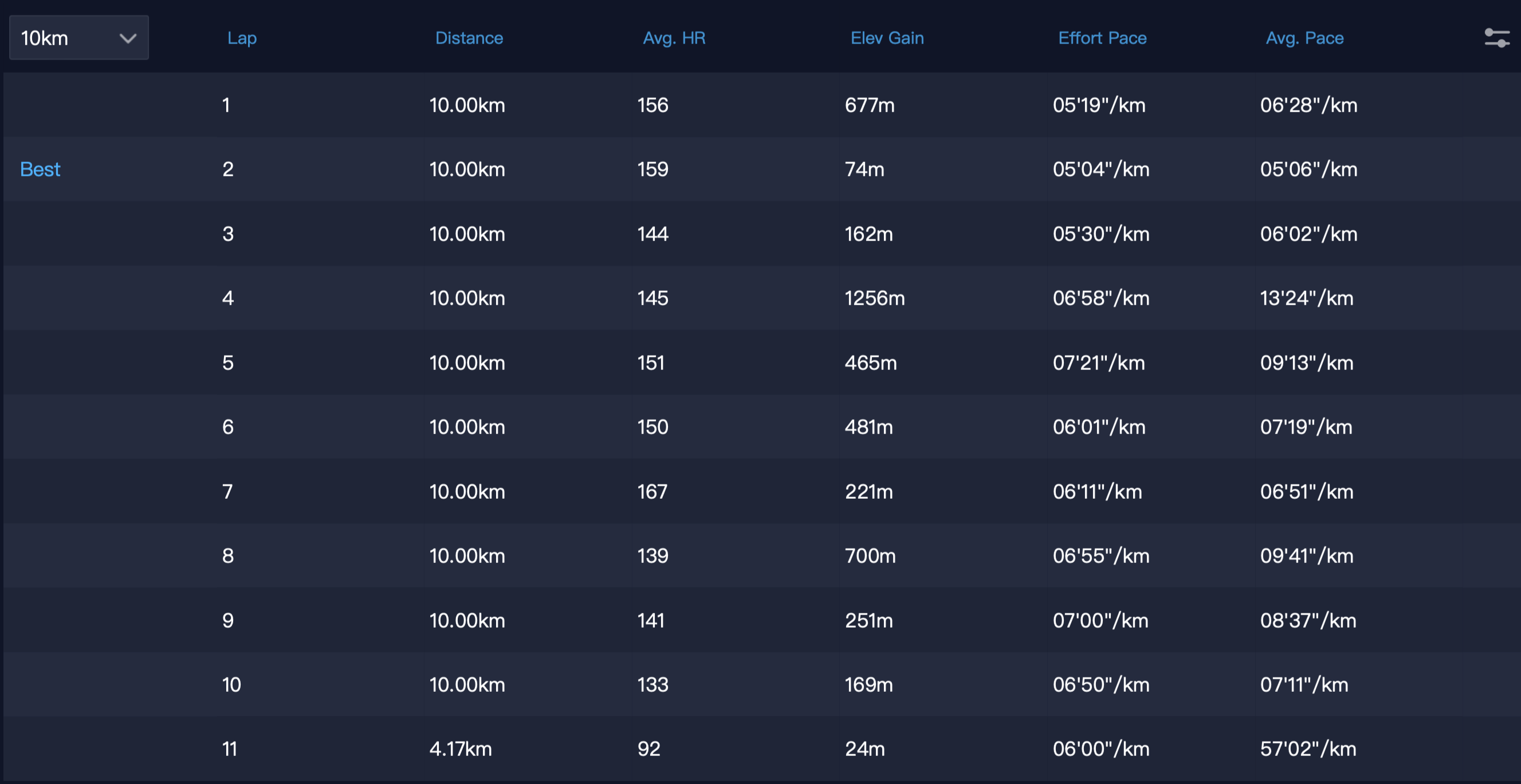 Giovanna's race splits from UTMB Brazil.
COROS Education: Effort Pace accurately reflects your internal exertion translated into external metrics such as pace.
In an ultra marathon, maintaining a consistent pace can be challenging due to varying terrains and elevations. This is where Effort Pace becomes crucial. Giovanna's average pace fluctuated between 5:06 and 13:56 per kilometer, reflecting the diverse race conditions. However, her effort pace remained relatively steady, ranging from 5:04 to 7:21 per kilometer. This consistency over the course of such a long race signifies effective and well-managed pacing to maintain a steady effort over time.
The Finish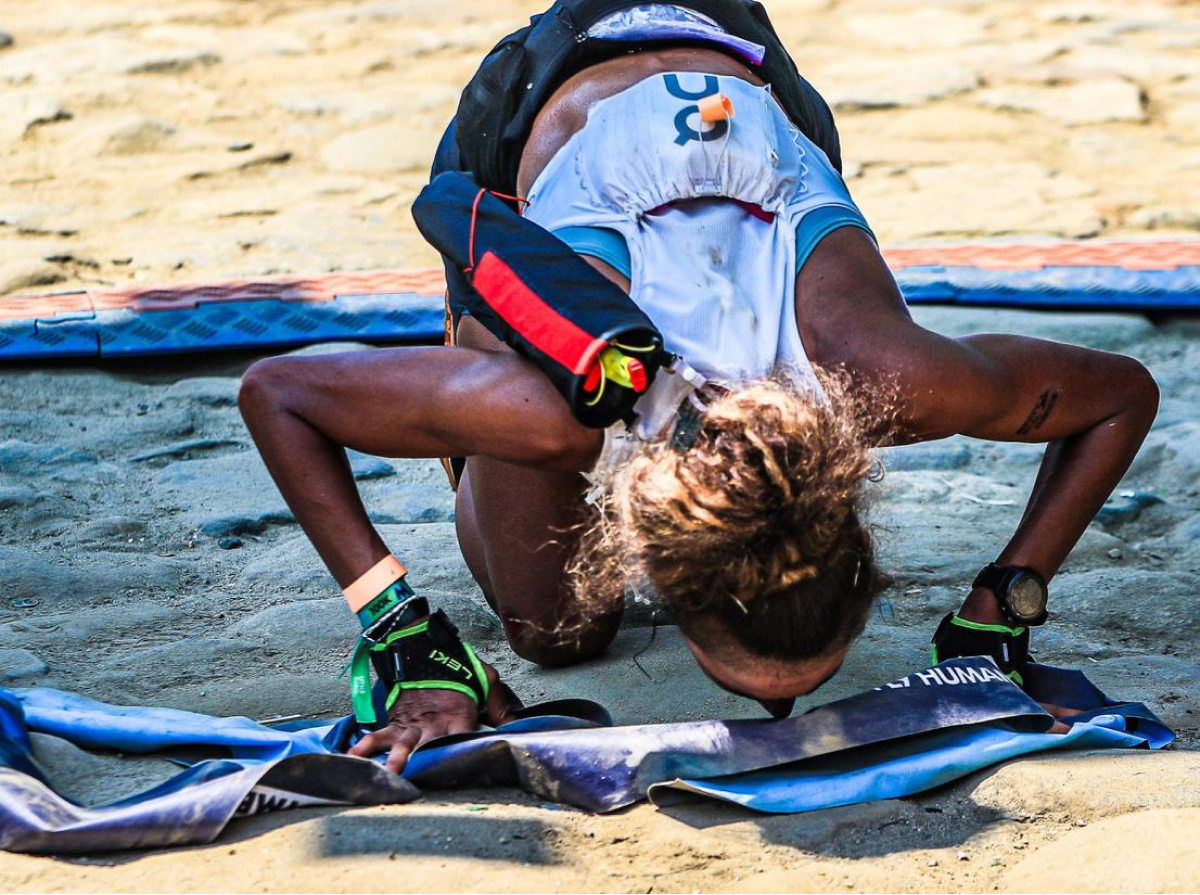 Giovanna's celebration at the finish line of UTMB Brazil.
Giovanna completed her race in 13 hours and 56 minutes, securing the top spot among the female participants and an impressive tenth place overall. Her strong finish was a testament to her remarkable speed, narrowly outpacing the second-place female finisher by a mere two minutes—a remarkable feat in such a lengthy race!
Giovanna described the race atmosphere as truly exceptional, filled with energy and excitement. The support and cheers from the enthusiastic crowd motivated her all the way to the finish line. However, she didn't shy away from acknowledging the exhaustion she felt at the end, attributing it to the challenging conditions, including the intense heat and the demanding course. In her own words, she'd never encountered anything quite like it before.
Congratulations Giovanna!
Giovanna at UTMB Brazil.
Analyzing Giovanna's training data, it's not surprising that she emerged victorious at UTMB Brazil. She drew confidence from her meticulous pre-race preparation and followed a strategic approach, making calculated decisions throughout the race. When asked by COROS for advice to share with aspiring ultra-marathon runners, Giovanna emphasized the significance of starting with manageable distances and progressively building up. According to her, it's essential to nurture your training, gradually advancing to longer distances, even if it means beginning with a 5K race.
As you embark on your upcoming training cycle and races, we urge all readers to carry these principles with them. Developing a structured plan not only enhances the productivity of your training but also eliminates the guesswork, ensuring a more effective and purposeful approach to your athletic endeavors.