On September 1st, Lucy Bartholomew completed the Ultra-Trail de Mont Blanc (UTMB) in an impressive time of 27 hours, 39 minutes, and 23 seconds, securing her position as the 10th place female. Just six weeks later, she found herself back at the starting line. On October 14th, Lucy participated in the Ironman World Championships in Kona. She became the sixth athlete and only the second female ever to accomplish this historic double within the same year.
Numerous factors contribute to an athlete's performance beyond the end result, and Lucy invested significant effort and dedication. In this blog post, we will delve into the specifics of her training regimen, recovery process, and mental preparation as she prepared for this significant double challenge.
Watch Used: COROS APEX Pro
Analysis Tool: COROS Training Hub
Data Analyzed By: COROS Coaches
Lucy's Preparation for UTMB
In June, Lucy began her build for UTMB by emphasizing all three disciplines: swimming, biking, and running. As the race approached, her training became more targeted, with a significant focus on mountain running. During this period, she reduced her cycling sessions but maintained swimming as a form of active recovery.

Lucy's Strategy Between UTMB and Kona
Lucy revealed that the day after UTMB was challenging, with minor injuries putting a greater focus on recovery than she had initially planned. She opted for a full week of rest, after which she started feeling enthusiastic about getting back into action and thinking about her next goal.
Building Up Fitness With 3 Sports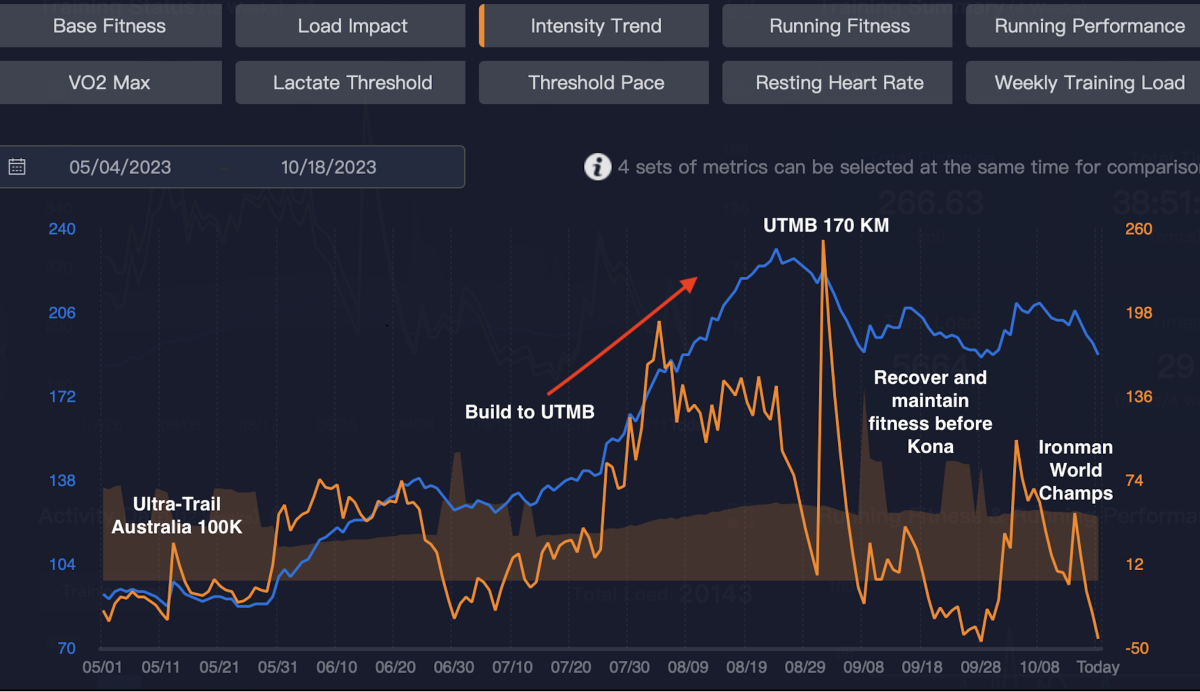 Lucy's Base Fitness from May through October.
COROS Education: Base Fitness is the 42-day rolling average of your training load score from each workout, showing long term stress. Intensity Trend is a 24-day rolling average that shows fatgiue.
In May, Lucy competed at the Ultra-Trail Australia 100k race. After the race she maintained a Base Fitness score between 80 and 90. In June, Lucy began her UTMB training with a Base Fitness score of 139. By the end of August (her peak training period), her Base Fitness Score increased significantly to 232, a rise of nearly 100 points. This increase in fitness was accomplished by focusing on all three disciplines, not just running.
Following UTMB, her fitness score gradually decreased. Taking a full week of recovery, she incorporated low-impact training afterward. Despite resuming training for Kona, her Base Fitness Score remained below 210, never surpassing her previous peak. Additionally, her Intensity Trend Score remained low for the initial four weeks after UTMB, indicating she maintained easy efforts to recover from the challenging 170 KM race.

Lucy's biggest training week after UTMB.
Managing Intensity and Recovery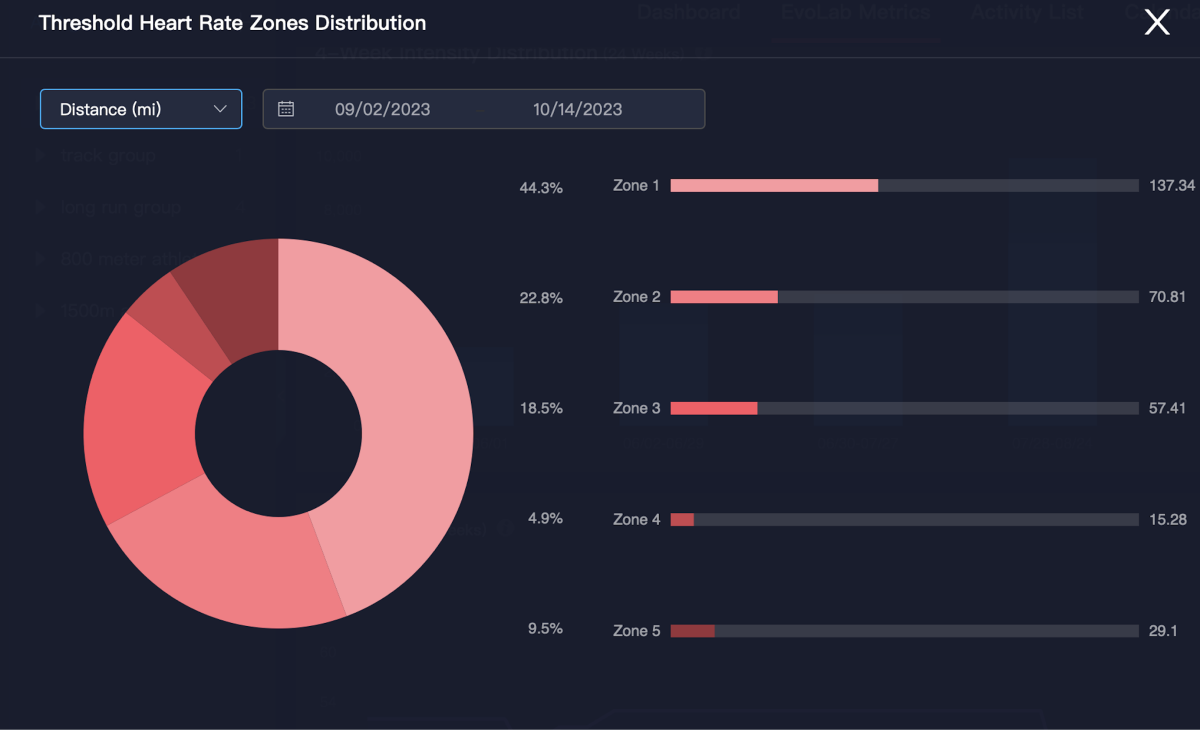 Lucy's Threshold Heart Rate chart for the 6 weeks in-between UTMB and Kona.
COROS Education: The Threshold Heart Rate Zone Distribution graph breaks down how much of your training is spent in each heart rate zone.
Analyzing Lucy's training journey from after UTMB to Kona, this graph provides a clear illustration of her training approach. It's apparent that Lucy emphasized Zone 1 and Aerobic Endurance efforts leading up to Kona, prioritizing recovery and sustaining her Base Fitness. This strategic focus on lower-intensity training was pivotal, considering the immense challenge of a 170 KM race with over 32,000 ft of elevation gain beforehand, and it significantly contributed to her success in both races.
5 Key Takeaways from Lucy's Double
Embrace Continuous Learning: Approach life as a student, always open to learning. Lucy's experience with clipless pedals in her first Ironman, despite multiple falls, taught her the value of resilience and continuous learning.
Follow Your Passion: Perform at your best by focusing on what truly excites you. Lucy found her passion in pursuing the double challenge, igniting her enthusiasm for training and competing.
Rest Is Essential Training: Recognize the importance of rest and recovery. After UTMB, Lucy prioritized recovery and engaged in low-impact activities like biking and swimming. Her confidence stemmed from smart training. She said, "I knew that I would rather be 1% undercooked than 1% overcooked for Kona."
Cross Training is Your Friend: Incorporate diverse activities into your training routine. Lucy discovered that integrating activities like tri-training improved her overall running performance, emphasizing the value of cross-training.
Define Your Purpose and Prepare: Undertaking back-to-back races demands both physical and mental strength. Lucy prepared by outlining her strategies and reasons for pursuing this challenge. Establishing a strong "why" and mental preparedness were crucial for her success in both events.
Lucy completing the bike leg of the Ironman World Championships.
How to Make Triathlon Easier with a COROS Watch
Lucy appreciates the convenience of inputting workouts directly into her watch, eliminating the need for excessive mental effort during intense training sessions. She found the interval feature especially beneficial for swimming, biking, and running as her training hours extended, giving her mind much-needed relaxation. COROS watches offer specific activities for open water swimming, biking, and running, along with triathlon to make transitions even easier.
COROS Education: Triathlon mode includes a transition between the first and second activities, and another transition between the second and third activities.
Congratulations Lucy!
Lucy expressed her gratitude for the opportunity to compete at the highest levels of both triathlon and ultra running. She stated, "Stepping or swimming into a day of unknowns is scary but so empowering, especially at Kona with the field being all women." Lucy has ambitious plans for the future, including pursuing a coveted Golden Ticket entry into the 2024 Western States 100 Miler as well as contemplating participating in a 70.3 Ironman event to qualify for the 2024 World Championships. We eagerly anticipate her next endeavors!